Get the free 40-page guide on Travel Safety
It's one more way Good Neighbor Insurance is helping people travel safer and travel smarter. Read more below…
In This Free Guide On Travel Safety Overseas (Download It To Your Computer, Kindle, IPhone Or Android):
Do you know how to avoid being detained or kidnapped overseas?
Do you know that unlawful detention (by immigration, police and the government) is more common than kidnapping?
Do you know how to avoid being a victim overseas?
Do you know ways to protect your data and identity overseas?
Do you have a real travel checklist you can use so you don't forget critical items before you travel?
Do you know the most corrupt countries on earth? (Some tips you can use re: bribery/corruption overseas)
Do you know the truth about RFID?
Have you heard that date rape drugs are now being used to rob tourists around the world?
Do I really need emergency evacuation?
Get our free guide on travel safety and stay safe overseas – find out more!
This guide, free online, is filled with real-life tips and strategies to keep you from becoming a victim overseas. Hopefully you may never need to use some of the information provided. But reading this guide, and knowing some of this information, could also save your life. At the very least it may save you hours and frustration trying to undo fraudulent charges, a stolen identity and ruined credit scores.
At Good Neighbor Insurance, we take very seriously our role in keeping you safe overseas. However, great international health insurance (travel insurance) is only one critical element in travel safety. Therefore we created this travel guide to help you in your overseas adventures.
Because we're travelers too. And we want you to be safe, AND ENJOY your travel overseas.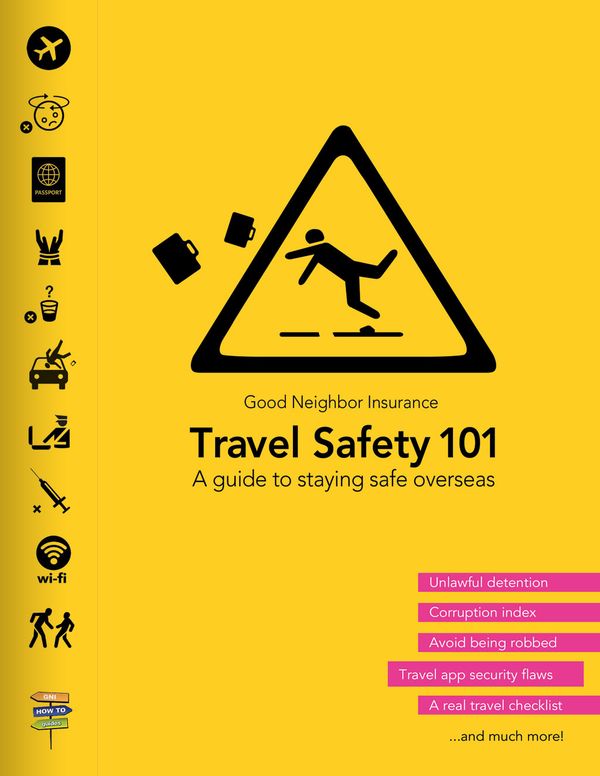 WHAT DO YOU THINK OF THIS GUIDE? Give us your feedback and testimonials! – AND see what others are saying!
Email [email protected] and we'll post your comments and links to your reviews.
Here at Good Neighbor Insurance it is very important for us to connect with you.
As an international service provider, we want to be sure that you are taken care of while you, your family, and your friends are traveling or residing around the world. It is our honor to serve you!
Connect