Thinking about retirement can be very exciting. The idea of being able to do what you want to do when you want to do it is very appealing. However, it can also be incredibly overwhelming.
The most important decision you will make regarding retirement is when you will retire. But the second is where you will live.
When it comes to determining the location, there are many factors to consider. What's your budget? How important is it for you to be close to family? Which type of climate do you prefer? Do you prefer to live near a major city with easy access to things or to be in a quiet place away from others? What do you like to do for fun? And so on.
No place is perfect. Every place has its positives and negatives. And we each have our own unique personality and desires.
We put a list together for you of the top 10 best places in Southeast Asia in which to retire. In our opinion, you cannot go wrong with any of them. It's mostly a matter of your personal preference.
You're sure to find your perfect retire spot in one of the places below!
Why Retire in Southeast Asia?
Before we talk about each of the 10 best places in which to retire in Southeast Asia, you might be wondering why you should consider Southeast Asia in the first place. The main countries in Southeast Asia are Vietnam, Thailand, Cambodia, Burma, Laos, Malaysia, Brunei, Indonesia, Singapore, and the Philippines.
If you've never been to this part of the world, you've been missing out. The diversity is astounding. There are amazing views, climates, foods, cultures, people, and more.
Most of the places in Southeast Asia are incredibly affordable for westerners due to the differences in economies. This makes it a very attractive option for those who haven't saved up millions of dollars and still want to live comfortably.
There are quite a few cities that offer luxuries you might be used to. For example, the ability to speak English, fine dining, quality healthcare, good internet speeds, air conditioning, and more. Some of the hospitals are the best in all of Asia and some of the best chefs in all the world own restaurants in these areas.
Now that you're hopefully convinced that Southeast Asia is a good option for your retirement, let's look at the 10 best places to retire in this area of the world. But first, two more notes on this.
First, these places are in no particular order; they are overall the best cities in our opinion. One may be best for you but not for someone else.
Second, you will notice that Singapore and Hong Kong are not on the list. It's not because they aren't great places to retire. Both would certainly be wonderful places to retire.
The reason these two spots aren't in the top 10 best places to retire in Southeast Asia is because of their cost of living. The costs in these two places makes it prohibitive for the vast majority of people.
1. Hua Hin, Thailand
Thailand offers many great choices of places to retire. One of the best in our opinion is Hua Hin, which is located on the coast of the Gulf of Thailand, south of Bangkok. It's a very relaxing, peaceful place but also offers access to great amenities.
Hua Hin is in a great location. It's less than a three-hour drive to Bangkok and the airport, so it's close enough to drive there on a weekend. And it's right on the coast, so you have access to water and nice beaches.
Hua Hin is home to a sizeable expat community, so you have access to some Western comforts and luxuries. There are some malls, and there are at least a dozen golf courses. And you can get around fairly well as an English speaker.
Hua Hin is home to many other activities such as night markets, hiking, fishing, badminton, and more. You can see a more complete guide to Hua Hin here.
There are a few excellent hospitals in Hua Hin, including a branch of the Bangkok Hospital, which is one of the best hospitals in all Southeast Asia.
The cost of living inexpensive is very low as a couple should be able to live on less than $1,200 per month.
The process of obtaining a retirement visa in Thailand is not too difficult. You need to be over the age of 50, have approved health insurance, have a certain level of finances, and to complete an application. The financial requirements are having a monthly income of 65,000 baht (about $1,900 at the time of this writing) to a Thai bank or at least 800,000 baht (about $23,000) in a Thai bank account.
2. Phuket, Thailand
Another great option for retirement is an island found in the southern part of Thailand called Phuket. Pronounced poo-ket, Phuket has become a popular destination for expatriates. There are many reasons why we would recommend retiring here.
First, English is widely spoken, and there are many great dining options. You can find Chinese, Japanese, Indian, and western restaurants on the island.
Healthcare on Phuket is excellent and readily available. There is a branch of the Bangkok Hospital along with several other great care options.
There are many choices for entertainment including animal sanctuaries, a bird park, waterfalls, golf courses, water sports, and several very nice beaches. Overall, the beaches are less crowded and more natural than other parts of the country. There is still some night life on the island, but not to the same extent as cities like Bangkok and Pattaya.
It's also easy to come and go from the island because there is an active international airport on the island. There are frequent flights to Bangkok and other cities in SE Asia.
The two downsides are the climate is quite hot for much of the year, and the cost of living is a little high compared to some of the other cities on the list. It might cost around $2,000 per month for two people to live comfortably.
3. Da Nang, Vietnam
Vietnam may not be the first country you think of when considering where to retire, but it's becoming a more attractive option. English is becoming more popular, and it's becoming increasingly developed.
There is one major downside with retiring in Vietnam, and that's the fact that they still do not offer an official retirement visa. Your options are continually getting tourists visas every one to three months or applying for a business or investor visa. They require more money and work but can keep you there for a longer period of time.
Da Nang is a great choice because of its size and beautiful beaches. The city is not overly crowded but has a large enough population to allow it to have some luxuries. There are several international restaurants and malls.
There are other things to do around the area such as temples, a few golf courses, markets, and many water activities. And it's close to Hoi An, a UNESCO heritage site.
One major plus is that the cost of living is very reasonable. Most couples should be able to live comfortably on $1,500 per month.
One downside to Da Nang is that the healthcare isn't up to the same standards as some of the other places on this list. There are a couple good hospitals including Vinmec International Hospital and Hoan My Danang Hospital. But if you have a significant medical problem, you will want to travel to Hanoi, which is over an hour away by airplane.
4. Hanoi, Vietnam
Another good retirement option in Vietnam is in the capital city. Hanoi is the largest city in Vietnam, which makes it a very different atmosphere from Da Nang.
There are many positives to retiring in Hanoi. First, there is a large expat community, so English is understood in many places. And you will be able to enjoy cuisine from several international restaurants.
With the big city comes several perks. There are a lot of things to do including shopping, museums, theaters, spas, and more. It's also very easy to come and go from Vietnam because Hanoi is a major hub.
One more benefit to living in Hanoi is the access to amazing medical care. There are several great international hospitals with doctors who have studied in other countries.
There are also a few negatives to living in Hanoi. It is a very large city, so the traffic and pollution are bad. Also, the cost of living is higher than Da Nang as it may take around $2,000 a month to live comfortably.
5. Bali, Indonesia
Bali has become a popular tourist spot for people from all over the world, but it is also one of the 10 best places to retire in Southeast Asia. On the island, you have several choices of which city, but the two best are probably Sanur and Uluwatu. Both are located in the southern part of the island.
Bali is home to some world class restaurants, beaches, and resorts. Some of the best beaches in all Southeast Asia are found here, including Uluwatu and Sanur beaches.
Bali has better healthcare than much of Indonesia, but it still isn't up to the standards of places like Singapore, Thailand, and Malaysia. However, Bali has frequent flights to those countries, so you can easily get to one of those places if needed.
There are two main downsides to Bali. First, the cost of living is higher (around $2,000 per month for a couple). Second, there are many tourists. This means certain times of the year will be very crowded and busy, and some of the tourists can be unpleasant to deal with because they primarily come to party.
Indonesia has had a retirement visa but may be phasing that out and requiring people to get a "second home visa". This article seems to have up-to-date information about this visa change.
There is a long list of requirements to obtain a retirement visa in Indonesia, including being at least 55 years of age, proof of adequate funds, proof of health insurance, and certain accommodation specifications.
6. Yogyakarta, Indonesia
The special regency of Yogyakarta is one more really good retirement option in Indonesia. It's located in the center of the most populous island of Indonesia (Java). It's very peaceful and affordable.
Yogyakarta offers many things to do. There are museums, temples, a volcano to hike, markets, a beach, and more. This place is full of rich history that is fun to explore.
The food here is amazing. There is a lot of tasty local food as well as restaurants with cuisine from other countries.
If you're looking for affordability, Yogyakarta is your place. The food and housing are very reasonable. A couple can live here for less than $1,000 per month.
There are a couple downsides to Yogyakarta. English is understood in the tourist areas, but not as much outside of them. Also, the medical care is probably the lowest quality out of any place on this list.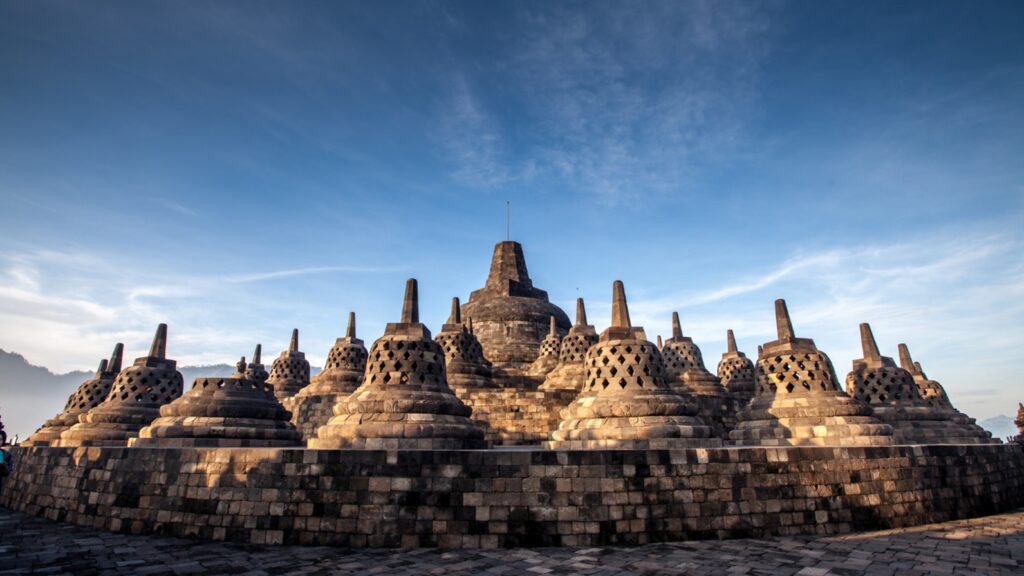 7. Kuala Lumpur, Malaysia
There is a long list of reasons why Kuala Lumpur is one of the best 10 places to retire in Southeast Asia. First, there is a large expatriate community so English is widely spoken.
Second, the healthcare available is some of the best in all of Asia, and it's not too expensive. You can choose between both private or public hospitals, and many of the doctors are internationally trained.
Third, there are many things to do including malls, parks, museums, markets, international restaurants, and more. Additionally, beaches and forests are not too far away.
If you live in Kuala Lumpur proper, the cost of living will be fairly expensive. It may cost around $3,000 per month for a couple. But you should be able to live for less than $2,000 a month if you live towards the outskirts.
If you have adequate finances, then the retirement visa in Malaysia is quite nice. Once you apply and get accepted, you will receive a 10-year renewable visa. You can obtain a retirement visa as young as 30, but you must have more liquid assets and need sufficient monthly income.
8. Penang, Malaysia
A second option in Malaysia is the area of Penang, which is in the north. Penang offers many of the same benefits as Kuala Lumpur, except it is smaller and more affordable.
The beaches in Penang are outstanding, and you have many options for activities in the water. You can also walk around the city of George Town, which is considered a UNESCO heritage site.
The cost of living in Penang is very reasonable at around $1,250 per month for two people. The healthcare on and near Penang is high quality. And it's easy to come and go from Penang through the international airport.
9. Dumaguete, Philippines
Many expats agree that Dumaguete is not only one of the 10 best places to retire in Southeast Asia but also in all Asia!
While Dumaguete is more remote (1.5-hour plane ride to Manila or 5-hour driving/ferry ride to Cebu), it's worth it. It's a beautiful area with amazing beaches. And there is great snorkeling and scuba diving. Other things to do include parks, waterfalls, and museums.
There is a decent size expat community here, and you can easily get around using English. There are several international food options. The healthcare here is good, but you may want to travel to Manila or Cebu if you have a major medical issue.
The cost of living in Dumaguete is similar to Yogyakarta, as a couple can live off less than $1,000 per month.
The retirement visa in the Philippines is one of the most appealing in all Southeast Asia. Once you complete the application process, you can stay for an indefinite amount of time. The financial requirements are low as a 50-year-old only needs $10,000 in a bank and $1,000 of monthly income. And there are several other benefits.
10. Davao City, Philippines
Another great retirement option in the Philippines is Davao City. It's considered one of the safest cities to live in throughout Southeast Asia. It's also the third most populous city in the Philippines, so you will be able to find great restaurants and many things to do.
Davao City gives you the best of many worlds. You can enjoy city life with malls, markets, and museums. You can enjoy beach life with many water activities. Or you can go hiking inland and enjoy beautiful waterfalls and nature.
Davao City has a growing expat community, and English is pretty widely spoken. The healthcare here is decent, but you may need to head to Manila or Cebu for major medical concerns.
The cost of living here is relatively low. Two people can live off approximately $1,200 per month.
Overall, it's a great option because of its development, clean air, safety, beauty, and low cost.
Protect Your Retirement
Whichever one of these 10 places would be the best fit for your retirement, there's one more thing you need to consider. Your health insurance will not cover you when you are overseas. While the healthcare in these cities is not as expensive as in the United States, health costs can still add up very quickly.
You don't want to risk ruining what you've worked hard for your entire life because you drained your savings due to an accident or serious illness. The simplest way to protect yourself and be able to peacefully enjoy your retirement is to purchase expatriate insurance before you move to your destination.
Good Neighbor Insurance offers several great expat medical insurance plans that will protect you and your loved ones. Get in touch with us, and we will help you find the best plan for your specific situation.
We wish you safe travels and a very happy retirement!