If there is any food dish that is consumed in many places across the globe, it is curry. In this article, we have taken a sampling of curry around the world to give some background and a flavor for the impact curry has had on the global population. Before we explore curry around the world, let us begin by explaining what curry is.
WHAT EXACTLY IS CURRY?
Curry is a far-reaching term that can be hard to describe or define.  It usually brings to mind an Indian delicacy with a unique taste and aroma that definitely takes you on a journey of the senses.
Curry is a dish with a sauce and seasoned with spices.  It typically contains spiced meat and a vegetable served over rice, bread or cornmeal. It can also be considered a sauce or gravy and contains many different kinds of spices. These spices can be prepared from scratch as a spice paste or powder or you can purchase a ready-made mixture.
You can eat it with bread, rice or anything you want. So much of the taste depends on the individual proportion of the spices to how you are using them to customize your curry. They can be cooked differently. You can grind some of them, toast them, blend some and shred some and it will all change the flavor of the curry. It's more the way you treat them than the number of spices. It makes it fun and creative to prepare your dishes. 
WHAT DOES IT TASTE LIKE? 
Each curry around the world has a unique flavor and taste depending on which sweet and savory spices are used and how they are used. It can have a deep and earthy flavor with spices like turmeric that also gives it a bright color. Sweet spices include cinnamon and clove which add brightness and give it some pep. 
HOW SPICY IS IT?
It is typically heavily spiced and full of taste. There are mild versions or you pack a punch with some ultra spicy versions. Curry is a very aromatic dish and has a strong smell while being cooked. You can recognize the unique scent even hours after it has been cooked.
WHY ARE THERE SO MANY VERSIONS OF CURRY AROUND THE WORLD?
The word is often used as a catch-all to describe any type of Indian dish or Indian food as a whole. It's interesting that in India, the word curry is rarely used to describe their very own cuisine. The various dishes are called by their specific names.
A variety of spicy and saucy dishes has ended up being lumped together under one name and transformed into many different dishes across the globe under the same name. There are many adaptations and incarnations of curry around the world. There is definitely a widespread appreciation of curry around the world that tantalizes palates with aromatic and zesty spices.
Some people also think of curry as any dish that is flavored with curry powder which is a mixture usually including turmeric, cumin seed, chilies, fenugreek and coriander seed.  It may also include curry leaf. Curry powder is said to have been created by the British back in the 18th century. 
WHAT MAKES CURRY HOT?
A lot of the heat in hot Indian or Indian-style curries comes from the use of hot peppers, and the powdered chili is one of the most convenient forms. The heat can vary in some forms of hot peppers, but powdered chili peppers usually have a consistent heat level that gets evenly distributed in the dish. 
VARIETIES OF CURRY AROUND THE WORLD
INDIA:
We will start with India, the place most commonly accepted for the native home of curry. You can find an astonishing number of dishes and the cuisine of India is extremely diverse and complex with all kinds of local specialties and various traditions from state to state and in the communities.
While most of the time not using the word curry to describe their dishes, Indians have traditionally called their dishes by specific names that include, korma vindaloo, molee, rogan josh and doh pizza, to name a few.
It seems that every family has a different recipe for the same dish. You add that up for every state and geographic region, and you get thousands of curries. A great deal depends on which part of the country you are from. In the southern part of India, most of the curries are spicier. In the north of India, they are milder and a little gentle with the spices. Many of them can be very complex.
A few unique India creations that do involve the use of the word curry include:
Chicken curry – It is popular throughout India and prepared in several different ways. Typically, chicken curry is made from chicken that is stewed in onion and tomato sauce with added ginger, chili peppers, garlic and spices. Chicken curries usually are a garnish of fresh coriander (cilantro) and served with rice or bread.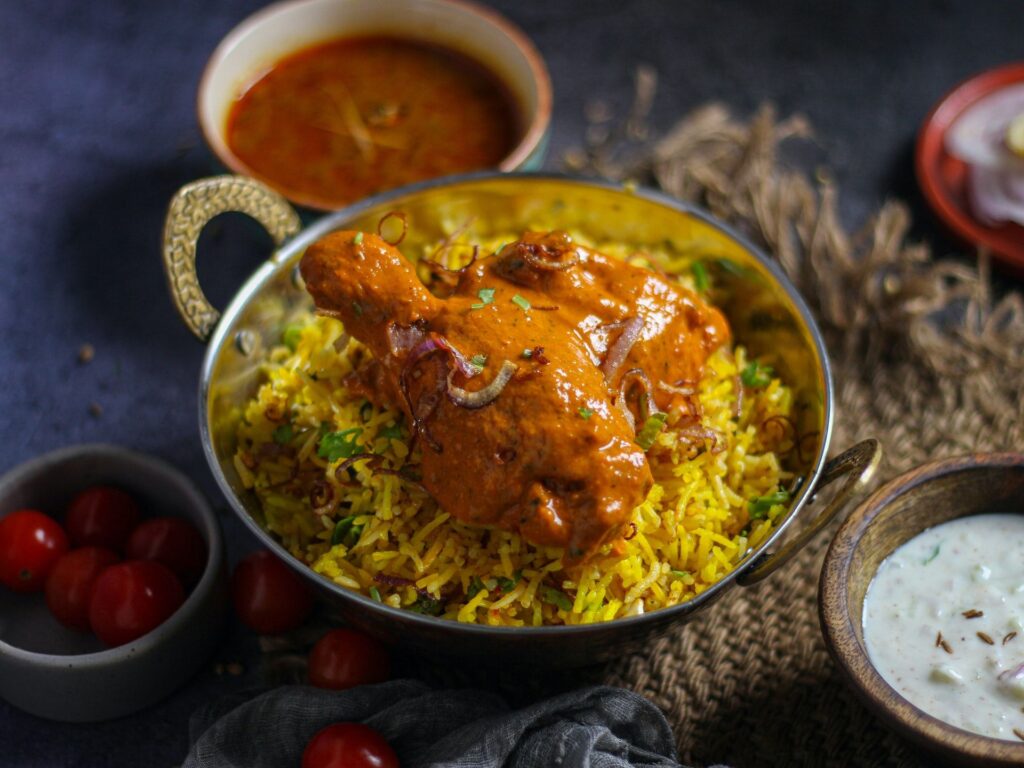 Lamb curry (or mutton curry)- It originates from north India and has a tomato and onion sauce and cooked a long time for the best flavor. It can be served with rice or a bread named chapati.
Egg curry – This dish includes boiled eggs, potatoes and is served with rice. Depending on which region it is served, it can include cashews, coconut milk and yogurt.
Fish curry – Along the coastal areas, fish curry is a popular choice. One example is the area of Goa, where the curry is well known for its spicy and tangy flavor. It is usually made with white fish, regional ingredients and is usually served with plain rice.
Vegetable curry–  It is an onion and tomato gravy with a combination of vegetables and ingredients like potatoes, green beans, cauliflower and okra.
Kofta curry – A tasty dish of broiled or grilled beef meatballs mixed with a rich, spicey and creamy sauce with onions, garlic and other spices.
A good example of a famous Indian curry dish is Vindaloo. It was originally from Goa and is one of the most widely used recipes in Indian culture. It is an intensely spicey dish because of the chilies and can be vegetarian, or contain pork, chicken or tofu. The vindaloo includes curry paste, coconut milk, caramelized onions, vinegar, jalapeno, chilies, garlic, chickpeas, ginger and lentils. You can also and turmeric, paprika, garam masala, salt and pepper. A must-try! 
UNITED KINGDOM:
Curry has long ranked as one of the most popular foods in the UK. Curry has fascinated the British since the British East India Company came to India as traders in spices in the 1600's. While working in the country, the British army and civilians developed a liking for the spicy foods of the sub-continent.
The British have lumped most sauce-based dishes under the blanket name 'curry'. It was first served in coffee houses in the early 1800s. Although most of these curries are based on Indian dishes, they have definitely been modified for British tastes.
A national favorite dish of the British, is Chicken Tikka Masala. It is said that the dish was invented more than 500 years ago in the Punjab region of India. The dish consists of chicken tikka, boneless chunks of chicken that are marinated in yogurt and spices roasted in the oven in a creamy curry sauce with a flavorful tomato base. It tastes slightly earthy with a faint taste of garlic and ginger.
Madras curries are also popular in Britain. They are heavy in tomatoes, garlic, ginger and onions as well as spicy and they contain a coconut base as well as a heavy amount of chili powder. Although Madras curry powder uses some Indian ingredients, it is not an Indian spice blend as much as something designed to suit English tastes.
MALAYSIA:
Malaysia's curry history is said to go way back to the 15th century when the country served as an important passageway for maritime trade. It was under British rule in the early 1800s that the country grew with an influx of Indian and Chinese workers.
In Malaysian curries, you will find turmeric-rich curry powders, shallots, coconut milk, ginger belacan garlic and chili peppers. Malaysia has its own curry powder and is a version of Indian spices that include garam masala and many food cultures.
Many of these dishes include adaptations of dishes that came from India, as well as creations developed from the diverse food culture in Malaysia.
A very popular dish is Curry Laksa (or Curry Mee). It is a coconut based curried noodle soup with shrimp, shredded chicken, fried tofu and bean sprouts. It's a combination of Southeast Asian curries and Chinese noodles.
Another must-try popular dish is Kari Ayam (chicken curry). It consists of chicken pieces, onions, coconut milk, garlic, tomatoes, ginger, ghee and a variety of spices that include pandan leaves, cinnamon, curry leaves, anise, lemongrass, chilis, fennel, cumin and turmeric. 
THAILAND:
The big curry influence in Thailand came with a big wave of Indian immigrants that arrived in the 19th century. Thailand is unique in that its curries are color-coded and categorized by the color of the paste. The three main types are red, yellow and green.  These various colors and other ingredients give a unique hue to each curry.
Green curry (Kaeng Khiao wan) is the hottest and spiciest of all curries and gets its color from green chilies, blue ginger, kra chai, shallots, garlic, turmeric, lime leaves, lemongrass roots, fresh coriander and basil in the paste.
Red curry, (kaeng phet) is also considered a spicy curry. It derives its color from the huge amount of red chilis that are used. They are crushed with garlic, shallots, blue ginger and lemon grass. Finally, the red curry paste is mixed in with coconut milk to make it into a curry sauce.
Yellow curry (kaaeng kari) is available in different varieties with the most popular form that has a rich flavor because it contains coconut cream. Some other varieties include elephant curry (very spicy), orange curry (very sour) and gold curry (spicier version of the yellow curry).
All three types of curry contain a great deal of turmeric and also include yellow mustard seed, kaffir lime leaves and cumin.
A good example of a tasty Thai curry is Massaman. It is thick, but milder than many Thai curry dishes and has a tangy and sweet taste. It has chicken and potatoes that are cooked into a slightly spicy and sweet sauce. Other ingredients are coconut milk, onions, peanuts, garlic, dried red chili, soybean oil, shallot lemongrass, coriander seed, cumin cardamom, cinnamon, bay leaves, cloves, kaffir lime and galangal along with many kinds of vegetables. 
INDONESIA:
With the wide range of populated islands and the diversity of ethnic groups, Indonesian cuisine has a great deal of variation and many different influences. Indonesia has a long history involving trade and its cuisine has middle eastern and Indian influences, as well as many others.
If you want to try an extravagantly rich dish, Beef Rendang is a good choice. It is easy to prepare, but takes time and patience to slow cook it. This is more of a dry curry and not very saucy. Along with the beef, it is cooked with a spice paste that includes turmeric, ginger, kaffir, lime, chilies and some coconut milk until it is tender. It is great for a creamy, rich and spicy taste.
Indonesian Gulais originated in Sumatra, likely from Indian culinary influence. It is a full flavored, rich and spicy sauce. Commonly called Gulai  https://en.wikipedia.org/wiki/Gulai  in Indonesia, It resembles a stew or a thick soup. You can use any variety of meat as the main ingredient, as well as vegetables, seafood or offal. Turmeric is added which gives it a yellowish color. Along with rich spices, including coriander, galangal, ginger, black pepper, chili pepper, shallot, garlic, fennel, lemongrass, cinnamon and caraway. It is commonly served with steamed rice. 
SOUTH AFRICA:
Primarily from the influx of Malaysian and Indian laborers to this region many years ago, the curry here contains a great deal of nuts and coconut milk.  South Africans have also created their own version of the dish. As in many countries, there are as many curries as there are cultural groups.
Bunny chow is a very unique and popular South African street food and a highly spiced curry for the spice lover. It is a food that is made out of a hollowed-out loaf of white bread filled with curry consisting of meat (lamb or chicken), chickpeas, potatoes and aromatic spices. It is for sure one-of-a-kind sandwich! What better comfort food.
The word bunny comes from another variation of the word Bania https://en.wikipedia.org/wiki/Bania_(caste) ". The name refers to a group of Indian traders that sold this delicious street food.
JAMAICA:
Now, moving to the Western Hemisphere, the Caribbean also ranks curry as a strong tradition.
Jamaican curry differs from the Indian variety by the use of curry powder, which is not used in India. These pre-made curry powder spice blends include mixes of turmeric, cumin, garlic, cardamom, paprika and fenugreek. Also, included to give Jamaican curry its unique flavor, is allspice. Jamaicans often use their curry powder as a rub to allow ingredients including chicken, potatoes, peppers and onion, for example, to marinate a few hours before cooking. It also gives a dish that bright yellow color.
A bold and flavorful dish to try is Jamaican Curry Chicken. It is said that the dish and spices came to Jamaica in the 17th century from East India.  Along with the usual curry ingredients of coconut milk and spices, chicken is chopped into small pieces and seasoned with Jamaican herbs and spices and made bright yellow with Jamaican curry powder. Usually, carrot and white potato are included to give the dish some body and to thicken the curry stuff. The sauce is thick, rich and bursting with taste!
In Jamaica, one of the island's favorite dishes is Curry Goat, where goat meat is slowly simmered with coconut milk, ginger, thyme, aromatic blend garlic, onions, hot pepper, tomatoes and much turmeric for a sunny yellow hue. The goat is similar in taste to lamb, but is much leaner. Cooked properly, this meat is tender and quite rich. 
TRINIDAD & TOBAGO:
In the Caribbean country of Trinidad & Tobago, the curries can definitely be categorized as much hotter than in other parts of the world, especially Trini curries. Some of the recipes substitute cayenne peppers for the much hotter Scotch Bonnet chilies, as an example. There are the local herbs also add quite a punch, like shado beni.
There are a variety of curry dishes that include crab, shrimp, duck, chickpeas, potatoes and lobster and you can get cumin-heavy sauces and roti on the side. You will find cumin, fenugreek (an herb similar to clover), coriander and turmeric in a usual Trinidadian spice mixture. 
JAPAN:
Curry even found a way to sneak into Japan, which usually has stuck to its own food culture for so many years. Curry was thought to have been introduced to the country in the 1800's by British officers and merchants.
Japanese curry tends to be thick, mild and sweet. Some of the typical ingredients added to Japanese curry include potatoes, meat, onions and carrots. The sauce usually starts with a blend of curry powder and is usually thicker in texture and quite a bit sweeter than its Indian counterpart. Pork or beef are the favorite meat choices and it is typically served with rice or katsu.
Some of the more common forms are Karee Raisu (curry rice), Karee Udon (curried wheat noodles) and Karee Pan (curry stuffed inside a roll). The Japanese version is usually thick and mellow and consists of stewed beef chunks, onions and carrots spread over rice. It is less spicy and seasoned than Indian and Southeast Asian curries.
One great comfort food to try is Curry Roux. It is made from flour, butter, spice combinations that include cumin, cayenne pepper, cardamom, turmeric, or Japanese curry powder. With these ingredients, you achieve a glossy color and a savory flavor.  You can include potatoes, carrots, chicken thighs and butter.
EXPLORE CURRY AROUND THE WORLD
We hope your appreciation of the popularity and diversity of curry around the world has grown through this article. Let us know if you have been inspired to try some of these various dishes. As you travel or live overseas, we encourage you to explore curry around the world.
As you do, don't forget to carry overseas travel health insurance in case of an accident. Stay safe!